Affordable Domestic Shade Sails In Melbourne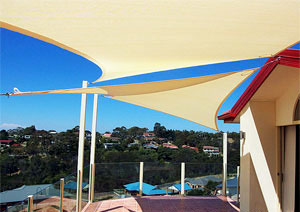 Square and triangle shade sails are beneficial for any outdoors residential area needing protection from sun, wind and rain. However, buying the right shade sail is only the first step – then there's the issue of having it properly installed.
No time for a DIY job? No problem! Melbourne Shade Sails can install your new shade sail for you quickly and efficiently, making sure your backyard, pool, deck or driveway is covered with the most reliable sun and rain protection possible.
Our fast and professional installation service for domestic shade sails in Melbourne is available across all suburbs, helping to keep Victorian families protected from sun damage. With our expert construction, your shade sail is sure to be stable and properly set up, providing maximum safety and protection.
Why Install A Domestic Shade Sail?
Our high-quality domestic shade sails in Melbourne provide:
Intense UV Protection
Offering up to 98% protection no matter what time of day it is or how extreme the heat, UV inhibitors prevent any harmful rays from penetrating the fabric, providing optimum protection against sun damage to the skin, such as sunburn and skin cancer.
Greater Ventilation
Breathable fabrics allow cool air to circulate beneath the shelter of your shade sail, providing you with a comfortable, airy and well ventilated space.
Light Protection from Showers
Shade sails also provide limited shelter from rainy weather to let you enjoy a dry outdoor space even in a light drizzle. Keep in mind that to allow airflow, shade sails are never completely waterproof and should not be relied upon to protect items that are sensitive to water.
Choose Our Professional Service For The Best Results
Our reliable and efficient installation services for domestic shade sails in Melbourne mean that adding a shade sail to your home is a hassle-free process. Devoted to making your life easier, our service is:
Fast
We'll get the job done efficiently so you can spend less time waiting around and more time enjoying the benefits of your new shade sail.
Professional
All our installation staff members are highly knowledgeable about shade sails and are dedicated to providing the safest and most stable construction.
Affordable
Why pay more? Not only are our installation fees lower than competing suppliers, but we throw in a free consultation, measure and quote on all jobs. For the best installation service in Australia, choose Melbourne Shade Sails and enjoy the benefits for yourself.
Request A Free On-Site Measure And Quote
To request a free on-site measure and quote for affordable domestic shade sails in Melbourne, get in touch with our experts today. You can reach us by calling 1300 99 32 37 or completing our online enquiry form.