CAR YARD SHADE SAILS DESIGNED FOR YOUR NEEDS
The easy way to keep your car yard protected the elements all year round.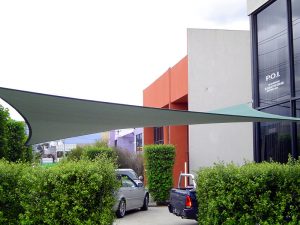 If you live and breathe cars, no doubt you want the best protection from sun and rain over your car yard. A high-quality shade sail could be the answer to all your problems, keeping your car yard covered to protect your cars from the sun, light rain and other environmental bothers.
By installing one of our first-rate shade sails over your car yard, you can create a comfortable shaded area that will keep your cars clean and prevent it from becoming overheated in hot weather.
CHOOSE THE BEST SHADE SAIL FOR YOUR CAR YARD
We've got a range of different products available to suit your needs and desires exactly. No matter how large or small your car yard is or what your primary concerns may be, we've got the right product for you. Choose from shade sails ranging in
Size
For car yards large and small and anywhere in between, we've got a sail in the right size and dimensions to give you exactly the cover you want.
Shape
Keep your car yard protected the way you want with a range of different shaped shade sails from square to triangle to provide the ideal cover for all different tastes and purposes.
Colour
Whether you're concerned about keeping your car yard looking attractive or interested in using the heat absorption properties of different coloured materials, we've got exactly what you need.
TWO FANTASTIC INSTALLATION OPTIONS
Installation doesn't have to be such a hassle. We offer two great choices to make setting up your new shade sail in your car yard as simple as possible: an installation service for all suburbs across Melbourne, and comprehensive do-it-yourself kits.
Melbourne installation service
Our high-quality installation service is available to all suburbs across Melbourne. All our installation staff are experienced with shade sails and guarantee a successful construction, quickly and efficiently installing domestic and commercial shade sails for maximum safety and protection at an affordable price. On top of that, we offer a free consultation, measure and quote.
Do-it-yourself kits
If you'd prefer to install your own shade sail, we make it easier for you by supplying everything you need including fabric, posts, fixtures, fittings and structures for a successful construction. Helping to make your installation experience as stress-free as possible, we provide you with clear instructions to help you complete an expert job by your own hands.
Keep your car yard cool, dry and clean with high-quality shade sails from a supplier you can trust.
FREE ON-SITE MEASURE AND QUOTE
To get a FREE on-site measure and quote for your project follow the link below, or simply give us a call and speak to one of our consultants on 1300 99 32 37.