High-Quality Shade Sails For Childcare Centres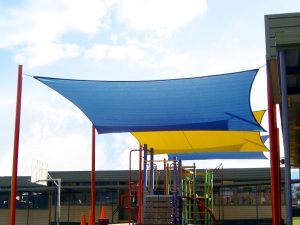 Keep children safe and protected with first-rate childcare shade sails designed especially for your centre. With a high-quality shade sail, you can make your childcare centre or kindergarten a safer and more enjoyable place all year round, allowing children the pleasure of the outdoors regardless of the weather conditions.

Melbourne Shade Sails offers premium yet affordable shade sails for childcare centres that provide strong UV protection and adequate shelter from rain, keeping both children and staff happy and healthy.
Allow Kids To Play In Rain Or Shine With Childcare Shade Sails
On even the hottest summer afternoons, children can enjoy the outdoors without the danger of sun damage thanks to our childcare shade sails that provide up to 98% protection from harmful UV rays. UV inhibitors work to stop any rays from penetrating the fabric, while UV stabilisers protect the quality of the shade sail itself by preventing deterioration due to sun damage. To make the area more comfortable in summer, breathable fabrics increase air circulation beneath the shade sail, creating an airy and well-ventilated environment.
For times when there are light rains or showers, our shade sails for childcare centres mean children don't have to be cooped up inside. Your shade sail will provide a drier area, with water-resistant properties that prevent too much rain from seeping through the fabric.
Find The Perfect Design For Your Centre
We make it easy to find the perfect shade sail for your childcare centre, with our products ranging in:
Size
As all of our sails are custom made we have childcare shade sails available in all different sizes and dimensions, ensuring you'll find exactly what you need. No matter how big or small your childcare centre is, or whether you want to cover the entire area or just a section, we can provide the size you need.
Colour
Different colours have different UV ratings and heat absorption properties. Depending on your primary concerns, you can choose from a range of different coloured fabrics to keep your childcare centre comfortable.
Shape
We have a variety of shapes available for you to choose from, including square and triangle. No matter what design you prefer we can custom make a shade sail for you, you'll be able to find shade sails for childcare centres to suit your needs and desires.
Choose Between Professional And Diy Installation
Installing your new shade sail is no problem with two great options to choose from: a reliable installation service for all suburbs across Melbourne, or a simple do-it-yourself kit that makes self-installation a breeze.
Installation Service
Committed to maximising your convenience, we can provide complete installation services for childcare shade sails. Our experts can get the job done at an affordable cost, including a free consultation, measure and quote. Working quickly and efficiently, we can install shade sails in all suburbs across Melbourne, guaranteeing a professional result for maximum safety and protection.
All of our professional shade sail installers are police checked and carry working with children cards.
Do-It-Yourself Kits
It's never been easier to install shade sails for childcare centres yourself. We make it simple for you by providing all the materials you need for safe and stable construction, including posts, fabric, structures, fixtures and fittings. This comprehensive DIY pack comes with clear, detailed instructions so that you can achieve professional results with minimal stress.
Request A Free On-Site Measure & Quote For Childcare Shade Sails
For a safe and protected child care centre, choose Melbourne Shade Sails today. To request a FREE on-site measure and quote for childcare shade sails, give us a call on 1300 99 32 37 to speak to one of our consultants.