PLAYGROUND SHADE SAILS IN MELBOURNE FOR SAFER PLAYGROUNDS
Give your playground the ultimate sun protection with a high-quality shade sail.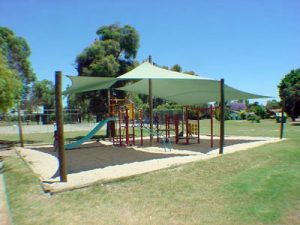 Children need the best sun protection possible to prevent damage to the skin such as sunburn and the beginnings of skin cancer. Fortunately, you can make your playground as safe and enjoyable as possible by choosing from the range of sun shade sails for playgrounds offered by Melbourne Shade Sails. Our playground shade sails in Melbourne provide a shaded, sheltered area that allows children to enjoy the outdoors all year round in all weather conditions.
A high-quality shade sail can make a playground safe and more comfortable in extreme heat, as well as providing shelter from light rain for the winter months. Keep everyone happy and healthy with a range of expert-designed shade sails ranging in shapes and sizes to cater for different tastes and purposes. As always with our products, safety comes first, with our shade sails offering maximum UV protection. Professional construction also means that your sail can last up to 10 years.
SUPERIOR UV PROTECTION AND VENTILATION
Children can play outside safely even in the most extreme heat with sun shade sails for playgrounds that offer up to 98% protection from harmful UV rays. UV inhibitors prevent any rays from penetrating the fabric, while UV stabilisers protect the quality of the shade sail itself by preventing sun damage and deterioration.
Not only do our playground shade sails in Melbourne offer maximum UV protection on hot days, but they also make the environment more comfortable, with breathable fabrics that allow cool air to circulate beneath the sail. This provides a cool and airy well-ventilated area that makes playtime on hot days far more pleasant and enjoyable.
LIGHT SHELTER FOR SHOWERY DAYS
On the other hand, sometimes rainy weather prevents children from being able to enjoy their play equipment. With a high-quality shade sail, children can continue to play outside even in light rain showers, with water-resistant properties that stop too much water from penetrating the fabric, allowing a drier and more comfortable environment.
ALL YOUR SPECIFIC NEEDS COVERED
We understand that all playgrounds are different shapes and sizes, meaning you will have different concerns when constructing your shade sail. To help you find exactly what you need, we offer a vast range of playground shade sails in Melbourne for all different tastes and purposes, with varying:
Colours
Different colours have different heat absorption properties. Depending on your primary concerns, you can choose from a range of different coloured fabrics to keep your playground protected.
Sizes
No matter how big or small your playground is, and whether you want to cover the entire area or just a select section, we offer sun shade sails for playgrounds in all different sizes and dimensions to ensure you'll find what you're looking for.
Shapes
Choose from different shapes, including square and triangle, enabling you to cover your playground exactly the way you want to.
TWO GREAT INSTALLATION OPTIONS AVAILABLE
Once you've chosen the best shade sail for your playground, there comes the issue of installation. We offer two equally advisable options to make the job as hassle-free as possible: a professional and affordable installation service for all suburbs across Melbourne, or simple-to-use, effective do-it-yourself kits.
Melbourne Installation Service
We can install high-quality playground shade sails across Melbourne, guaranteeing professional construction for maximum safety and protection. Working quickly and efficiently, we get the job done with expertise you can rely on, all at an affordable cost. To make things even better, we include a free consultation, measure and quote with our installation services.
Do-It-Yourself Kits
If you fancy yourself a bit of a handyperson, we make it simple for you to install your own shade sail, providing all the materials you need to complete a safe and stable construction. Everything you need including posts, fabric, structures, fixtures and fittings are packed into an easy-to-use DIY kit, complete with clear, comprehensive instructions to help make your experience as quick, stress-free and successful as possible.
You'll never believe how simple it can be to construct your own shade sail with professional results. With our options for sun shade sails for playgrounds, it's never been easier to create an enjoyable and comfortable play area.
FIND OUT MORE TODAY
To learn more about our available playground shade sails in Melbourne or to request a free on-site measure and quote, get in touch with our experts today. Call us on 1300 993 237 for friendly advice and assistance.