Custom Shade Sails in Melbourne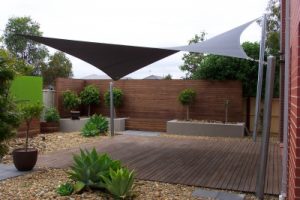 For sun protection that enhances the appearance and liveability of your home or business, speak to the team at Melbourne Shade Sails about our custom made shades. Our expert measure and design service for custom shade sails in Melbourne will ensure your new sail fits your property perfectly and provides the optimal amount of shade.
We know that when you invest in custom shade sails, you want them to look good for a long time. Made with high-quality materials and with the added technology of UV inhibitors, our custom shades can be relied on to stand the test of time, even under the harsh Australian sun.
GET THE PERFECT SHADE TO FIT YOUR OUTDOOR AREA
Each custom shade sail we produce is made to order. Occupying a large space, a poorly thought-out sail can be an eyesore; that's why we listen to your needs and assess your property to ensure you get the perfect fit.
Our custom made shade sails are fully customisable, including:
Size
No matter how big or small your area is, we can design and supply a custom made shade to fit.
Colour
We offer a range of colours with different levels of UV protection, as well as varied appearances. You can view the colours options for our custom shades online here.
Shape
Square and triangle shapes are available to suit all manner of applications and outdoor spaces.
TWO EASY INSTALLATION OPTIONS
At Melbourne Shade Sails, we make getting the sail you need easy and affordable. We offer two installation options for our custom made shade sails to suit your needs and budget. You can either:
Have one of our expert technicians install your custom shade sail for you. We offer our professional installation services throughout Melbourne at an affordable cost.
Use one of our simple installation packs to install the sail yourself. With instructions in plain English and quality parts, it's easy to put up your own custom shade sails.
GET A FREE MEASURE AND QUOTE
If your home or business needs sun protection, don't delay – call our team today to request a free measure and quote for custom shade sails in Melbourne. Call us today on 1300 993 237 to discuss your needs and learn more about our available options for custom shades.